About Oliveri's Deli…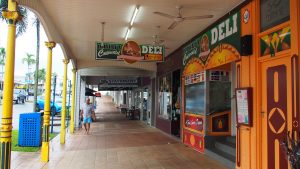 With a history as rich as some of our product lines, it's no wonder Oliveri's Deli is so widely renowned! And for those of you interested, here's a short version of it's History…
In the early 1920's, the seed of Oliveri's Deli was planted when the Saraceni family (formerly of Italy) began supplying migrant European field workers with their homeland foods on the Johnstone riverfront at Innisfail Esplanade. Word of mouth and demand steadily increased – with the Saraceni family continuing to operate until selling the business in 1983 to Len and Anita Oliveri.
Len, a Boiler Maker by trade, Fitter and Turner by skill, and Cane Harvester driver by employment, took a leap of faith together with his wife Anita (homemaker and mother of their three children).
35 + years of dedication and commitment ensued, whereby Len and Anita continue to deliver on their promise to supply Innisfail and surrounds with the largest selection of high quality gourmet products, at competitive prices.